Broadmoor Hospital – fire protection by Fireworks
Broadmoor Hospital is a high-security psychiatric hospital in Berkshire which was built in Victorian times. The facility recently underwent major renovation and extension projects to bring it up to 21st century healthcare standards. This included the construction of the Paddock Centre – a 72 bed hospital, with fire protection systems provided by Fireworks.
The Paddock Centre treats patients diagnosed with dangerous and severe personality disorders and has been designed to provide a range of therapeutic, educational, social and recreational facilities. Spread over three floors, the hospital includes six 12-bedroom wards, secure courtyards and a number of communal recreation spaces.
System design for different areas
Fireworks designed and installed a fire protection system perfectly adapted to meet the different requirements throughout the building. Watermist fire protection is ideal for hospitals and secure facilities as it provides the fastest, safest, most reliable solution for suppressing fire, smoke and heat – crucial in hospitals with vulnerable patients.
The BS8489 British Standard was used as a basis for the design, setting out installation, performance and maintenance criteria on watermist systems for life safety and property protection.  The system is powered by a compact high pressure pump unit arrangement. For added security, in the event of a failed mains water supply, the design includes a water storage tank. Small diametre stainless steel pipework connects the water supply and pump to a network of watermist nozzles located in the areas to be protected.
Fireworks selected three different types of watermist nozzles to protect different areas. OH1 anti-ligature nozzles, tested in accordance with FM 5560 appendix G, were used in bedrooms and other patient observation areas. OH1 nozzles designed for rooms of up to 8 metres high were used in halls and atriums. Finally, OH3 nozzles were used for areas designated as higher fire hazards, such as storage areas and laundry rooms.
Testing and commissioning
All components of the system were tested and commissioned. The entire pipe network was hydrostatically pressure tested at 1.5 times operating pressure of the system, in accordance with NFPA750 standards. Watermist nozzles and pump components were tested and approved by VdS and FM.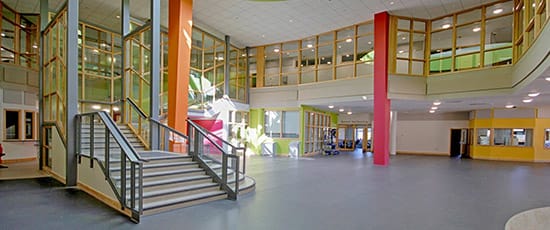 See Fireworks solutions in a private clinic. Read the Schoen Clinic Case Study