E.ON Energy's biomass depot at the Liverpool docks transfers and delivers biomass from around the world. Fireworks engineered a watermist fire suppression solution for the depot's three main biomass conveyers, totalling over 700m in length.
Fireworks bespoke watermist fire protection solution
Working closely with the client, the main contractor and the conveyor contractor, Fireworks developed a bespoke watermist fire protection solution for the biomass depot.
Each conveyor was divided into a series of fire zones, each with its own dedicated flame detector, zone valve, fire control panel, stainless steel piping and watermist nozzles. The design incorporates a further centralised fire panel which allows automatic controls to be programmed.
Fireworks' designers began with an analysis on the required water spray volume and nozzle coverage required for each of the zones. For maximum protection, the flame detectors and nozzles were installed inside the conveyor covers. All pipes and bracketry were custom-designed to minimise space requirements.
Operations
The fire protection system is powered by a watermist pump unit, with 100% redundancy, connected to a water supply.  When one of the flame detectors senses fire, a signal is sent to the pump. Water is emitted through the nozzle at pressure to form a fine mist. The atomised water is drawn directly to the source of heat and has a two-fold extinguishing effect – it rapidly cools down the fire and starves the flames of oxygen. The cooling effect also prevents reignition.
E.ON staff were trained by Fireworks in the operation of the system and shown how to carry out fault finding and remedial actions if required. The system requires minimal maintenance and is on constant stand-by 24 hours per day when the biomass handling depot is in operation.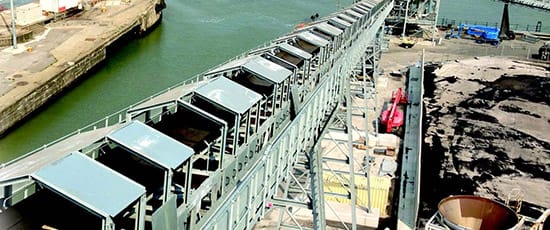 To discover some of the many other sectors protected by Fireworks' fire suppression systems, explore our home page.