Warburtons is one the UK's largest food brands, producing over 2 million bakery products every day. Fireworks designs, installs and maintains watermist fire suppression systems for Warburtons' commercial ovens in its high-volume factories in Burnley and Bolton.
The three key performance indicators
Warburtons needed a rapid, reliable solution to protect its professional ovens, due to small amounts of oil being used on some of its production lines. The three key performance indicators for Warburtons were:
– ensuring safety for its staff
– fast return to production
– preventing the spread of fire to other areas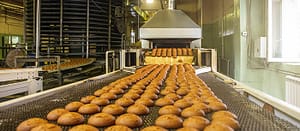 Test proven solution to get your production back up to speed in minutes
Fireworks designed and installed a watermist fire protection solution for Warburtons comprising a dedicated detection system, watermist pump, control panel, stainless steel pipework and watermist nozzles. The system was fully designed and installed to NFPA750 recommendations and code of practices.
Stringent fire tests carried out in the presence of insurers show that Fireworks' watermist solutions suppress and extinguish fires in professional ovens and fryers within 40 seconds. The watermist also rapidly cools the fire-affected area, to prevent re-ignition. A further benefit of watermist is its ability to remove smoke particles from the fire area.  As only very small amounts of water are used, food protection can get back up to speed within minutes.
System activation
Fire suppression is automatically triggered by a flame detector located at the outfeed of the oven. The system can also be activated manually. In the event of fire, the pump drives water under pressure through the network of pipes. Water, in the form of fine mist, is emitted from the nozzles in the affect area only.
Watch the video to see how fast watermist operates in official testing
Call us on 0800 975 7462 for advice on your fire protection needs.