Fireworks, the UK's leading experts in water mist fire protection, has won the Data Centre World 2022 Awards in the category of "Special contribution to improving resilience through innovation". Derek Killaspy, Managing Director of Fireworks, was presented with the award during Data Centre World exhibition, on 2 March.
Fireworks has been pioneering the use of water mist fire protection to improve resilience in data centres for many years and is now entrusted by some of the UK's largest data centres.
Growing awareness of water mist
"Part of our role here at Fireworks has been to grow awareness and understanding of how water mist works – and about the specific benefits for data centres" said Derek Killaspy. "Being able to offer the fastest fire and heat suppression, with minimum disruption to business continuity is clearly key for data centres – but there are many other benefits with our turnkey solutions, including the lower environmental impact of water mist fire protection."
Importance of experienced, fully-certified service provider
Providing the best fire protection is not only about the equipment that is used. Choosing an experienced, fully-certified service provider is critical. At Fireworks, our in-house teams work closely together with our clients to design and install the optimum system for their requirements.
Project management awards
"I'd like to thank all of the dedicated teams at Fireworks for contributing to winning this award" said Derek Killaspy. "I'd also like to thank the Data Centre World Award judges and our clients. Our clients keep coming back to us to entrust us with new projects and we have won two further awards, from clients, for our project management skills over the last six months."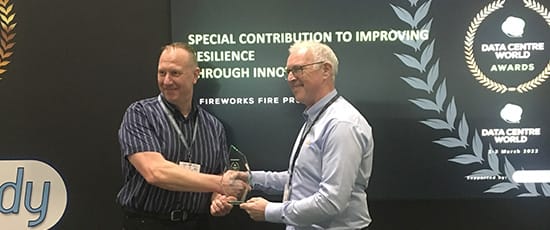 Custodian chooses Fireworks Fire Protection for new 10MW data centre