Laing O'Rourke, one of the world's leading construction and engineering companies, presented Fireworks Fire Protection Ltd with the Supply Chain Collaboration Award during its recent UK Supply Chain Forum. The Collaboration Award recognises Fireworks' outstanding contribution to project certainty during an 18-month project for Her Majesty's Prison Glen Parva.
The Laing O'Rourke Supply Chain Awards took place on 5 October and were attended by over 350 online participants. The awards celebrated the valuable contribution the company's entire supply chain has made over the last 18-months.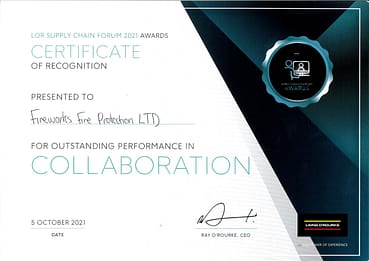 M&E design recommendations resulted in improvements across building services
"Fireworks were contracted by Laing O'Rourke's Crown House Technologies Group to design and install water mist fire suppression systems at HMP Glen Parva" explains Carol Williams, Laing O'Rourke Head of Procurement Europe. "Fireworks made several Mechanical and Electrical (M&E) design recommendations which resulted in a number of improvements across building services. These were not just improvements to the water mist system, but also to systems that had been provided by other contractors – one example being on water supplies to potable water and fire hydrants.  Fireworks also used their relationship with the prison national fire safety team to independently clarify design queries."
Outstanding impact on project certainty.
"The Laing O'Rourke Collaboration Award shines the light on one of our valued supply chain members whose work had a truly outstanding impact on project certainty" says Carol Williams. "All of the companies nominated for this category were of a very high calibre, but Fireworks Fire Protection Ltd stood out in this field."
"Fireworks' professionalism, knowledge, drive and collaboration during every stage of the project enabled us to mitigate the risk of inconsistencies between specifications and the Ministry of Justice's  standards to pre-empt any testing or commission issues and ultimately deliver a robust and comprehensive, engineered fire safety solution for our clients.
"This award demonstrates the outstanding teamwork that took place between all parties during the 18 month tender process" added Derek Killaspy, Fireworks Fire Protection Ltd Managing Director. "Thank you to Laing O'Rourke, Crown House Technologies and all the teams who were involved in this project. Their professionalism enabled the optimisation of the entire M&E package for the clients' new prison. This award also complements those that Fireworks has been winning in other sectors this year, including a recent quality award for our data centre projects."