Water mist fire protection, the next generation of sprinklers, made a successful debut at London Build Expo on 16 November 2022. Fire industry thought leaders from Laing O'Rourke, Skanska and Fireworks presented a panel discussion on the Key Essentials of Water Mist Fire Protection to a packed audience at the show.
Speakers Nick Mead, Technical Director MEICA Systems from Laing O'Rourke, Gary Neal, Head of Fire at Skanska UK and Derek Killaspy, Managing Director of Fireworks shared their in-depth knowledge of water mist and gave their views on why this fire protection solution is gaining adoption
Raising understanding of Water Mist Fire Protection
The aim of this presentation was to raise understanding of water mist fire protection and to review the many safety, logistical, design and environmental benefits. The panel experts also shared their experience from water mist installations in different types of facilities including rail infrastructures, data centres, hotels, offices, high rise residential and multipurpose buildings.   
"Thank you to Nick Meade and Gary Neal for bringing their wealth of experience to this panel" said Derek Killaspy.  "There is a need to further educate the market on the benefits and applications of water mist fire protection and this was demonstrated by the interest of the audience, many of whom came to our stand at London Build Expo for more information.''
If you would interested to hear about water mist applications for your projects, contact enquiries@fireworks-ltd.com or 0800 975 7462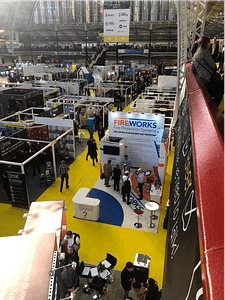 Fireworks is the UK's leading expert in the design and installation of water mist fire protection systems. The UK-based company has been pioneering the use of water mist fire in a wide range of buildings and installations – from offices and hotels, to data centres and hospitals – for nearly 30 years.