Fires in rail and underground networks are life safety hazards, due to large amounts of passengers in transit, crowded environments and limited escape routes. Smoke is the single biggest cause of fatalities during fires and can spread quickly through the network of passenger walkways and stairwells.
Life safety advantages
Watermist fire protection brings significant safety advantages, due to its fast fire suppression and unique smoke cleaning capabilities. This provides a breathable environment and improves visibility to enable safe evacuation.
Watermist offers the fastest-acting fire suppression and cooling properties, to preserve structural integrity and ensure critical power and communications networks. As watermist only uses small amounts of water when activated, train services can normally be resumed rapidly.
Areas to be protected
In rail and underground networks, watermist can be used to protect a wide range of areas.
| | |
| --- | --- |
| Electrical installations | Fuel and other storage areas |
| Passenger transit areas | Tunnels |
| Retail outlets | Data and control rooms |
| Machinery and plant rooms | Power and communications cables |
The light, compact size of watermist equipment and smaller pipes which can be bent and fitted into virtually any place, make it much easier to fit into difficult-to-access areas.
Environmental benefits
Chemical free – harmless to people and the environment

Uses less power than sprinkler systems

Uses much less water than sprinkler systems

Compact equipment requires lower metal resources than other systems

Durable, long lasting systems
To discuss fire protection for your project, contact 0800 975 7462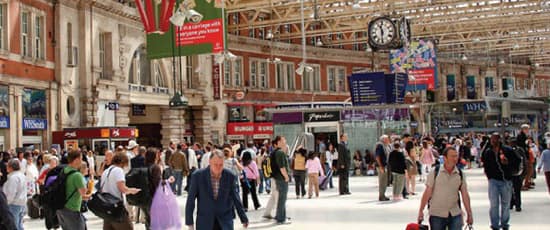 Tunnels – maximum efficiency, easier retrofitting
Book your free, Institute of Fire Enginneers-accredited CPD session on Understanding Watermist Fire Suppression