For HMP Stocken, Fireworks deployed a custom-designed watermist fire system in just two months. Fireworks now protects over 150 prisons and custodial suites.
HMP Stocken is a Category C prison that was first opened in 1985. Following several expansions, with new accommodation, facilities and workshops, it has achieved recognition for the quality and safety of its environment. In 2019, HMP Stocken became the first prison facility in the UK to incorporate the latest Ministry of Justice fire safety standard, NOMS Spec 054, into its fire precaution systems.
The prison's newest wing adds a further 206 beds to its capacity. Fireworks was chosen to custom-design and install a state-of-the-art fire suppression system, leveraging the latest innovations in high pressure watermist fire protection.
New NOMS Specification
One of the most recent developments in high pressure watermist fire suppression for the custodial sector is the new National Offender Management Services NOMS Specification 054. This standard has been developed to automise watermist fire suppression systems for areas identified as being of particular fire hazard, such as laundries and storage rooms, where watermist nozzles could eventually be tampered with.
A custom-designed, three system, watermist solution
The fire suppression system at HMP Stocken's new wing included the custom design, installation, testing and commissioning of a high-pressure watermist system to protect the cells and areas of special fire hazard. The system designed by Fireworks incorporates three parallel watermist solutions – for in-cell protection, areas identified as 'special hazard' and manually operated hose reel cabinets. At the heart of the solution is a central 200 litre pump unit, backed up by a second redundancy pump, which powers a network of over 900 metres of stainless steel pipework, watermist hose reel cabinets and 160 watermist nozzles.
1- In-cell protection
Side-wall mounted nozzles are located in each cell of the new block. These open, anti-ligature nozzles have been tested and approved by the BRE and Ministry of Justice. The nozzles are activated by a fire detection system and local automatic valves, so manual intervention is not necessary. In the event of a fire within a protected cell, smoke is detected by the dedicated detection system. A start signal is then sent to open the relevant solenoid valve. Through the subsequent pressure loss, the pump detects water flow and begins to propel water through the distribution pipework. Watermist is then discharged into the affected area only. Custodial staff have the possibility to bypass the solenoid control valve for each cell manually and thus allow water to start, or stop, flowing to the nozzle, regardless of whether a signal has been raised by the fire alarm system.
2 -Protecting special fire hazard areas
For areas nominated as areas of special fire hazard, such as laundry areas, Fireworks installed closed nozzles that are activated via glass bulbs that rupture during heat above a pre-determined temperature. This causes a flow of water which is then detected by the control panel, which then triggers the high pressure pump unit into operation. Watermist is then emitted at all of the affected areas, identified through nozzles with ruptured bulbs.
3 -Hose reel cabinets with watermist nozzles for manual firefighting
The third aspect of the system is a series of watermist hose reel cabinets, for manual firefighting. Each of the high security, lockable steel cabinets includes a 35 metre hose reel assembly, with a handheld lance fitted with a watermist nozzle. Located on wall surfaces, or flush installed into the wall, each cabinet is connected to the central high pressure pump unit. To activate the system, a custodial staff member opens the flow control valve located inside the cabinet. Watermist is activated by squeezing the trigger located on the lance.
Installation, testing and maintenance
Fireworks custom designed HMP Stocken's fire suppression system. Once the design was approved, installation and testing were completed in less than two months. Each of the 160 nozzle locations was tested to a limit of 150% of the system's operating pressure, for a total of 10 minutes and then at normal operating pressure for a further 110 minutes
The system includes a full control and monitoring solution and is incorporated into the building management system and fire alarm.
Fireworks specialises in high and low pressure watermist fire suppression systems and is the leading fire suppression company for the Custodial Sector. in the UK. The company has been entrusted by the Ministry of Justice for over a decade and now protects over 150 prisons, custodial suites and immigration centres.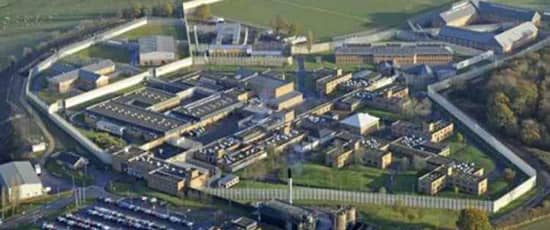 Find out why Fireworks is the UK's most trusted expert in fire suppression for the custodial sector, from custodial suites to large titan prisons.
To discuss fire protection for new build or retrofit projects in the custodial sector, call us on 0800 975 7462 for advice on your fire protection needs.