Crossrail's Elizabeth Line is a vast infrastructure development for London that will provide a much-needed new transport artery. When opened in 2022, it is expected to carry around 200 million passengers a year. Fireworks was selected to contribute to this project, with protection for a large number of storage rooms at Farrington and Woolwich stations.
Project scope
The Elizabeth Line will provide London with a new network connecting east, west and central London, including Heathrow and City Airports. Of the 41 stations on the line, 10 are new builds. Fireworks was commissioned by the two of the major constructors involved, to provide fire protection for the new-build stations at Farringdon and Woolwich.
Crossrail had identified the need for fire suppression in numerous storage rooms for these stations, some of which are in remote, difficult-to-access areas, more than 30 metres below ground level. The fire hazard risk for these areas was identified as Ordinary Hazard 1 (OH1). Traditional water sprinklers were unable to provide the solution needed, due to the size of components and limited accessibility of the spaces to be protected.
Success factors
Fireworks' experience as a designer and installer of custom fire protection solutions, along with the high performance and light, compact design of its watermist systems, were winning factors. Rapid project completion time on site was also key.
High pressure watermist offers rapid, effective fire suppression and is the only fire protection solution to dramatically reduce the spread of smoke. As only small amounts of water are used, it enables fast return to normal operations in the event of fire.
Fire protection system design
Fireworks' fire protection designs for Farringdon and Woolwich Stations were integrated into a 3D Building Information Modelling (BIM) tool. BIM was crucial to the Elizabeth Line development, due to the number of contractors involved in this large and complex project.
The system designed by Fireworks is powered by compact, high pressure pumps, engineered to produce a flow of 15 litres of water per minute at a constant pressure of 100bar.
OH1 watermist nozzles have been fitted in each storage room. This is a "wet pipe' system, with closed watermist nozzles located at high level in each of the areas requiring protection.
In case of activation, the system is fed by the mains water supply. Cylinder-based systems would not have been possible for this project for a number of reasons including space, logistics, shelf life and the problem of decaying pressure.
The pumps, water supply and watermist nozzles are connected via a network of 12 to 15mm diameter, 316-grade stainless steel pipes.
The pumps and nozzles are also linked to control panels, custom-designed by Fireworks, for each of the protected areas.
How it works
Fireworks' fire protection for Crossrail incorporates heat-activated nozzles with frangible bulbs. In the event of excess heat from a fire, the bulb glass is fractured. This creates a pressure drop in the nozzle, which is detected by control panel and activates the watermist pump.
Water from the mains supply is then propelled to the affected nozzles only. The nozzles emit a fine watermist, which quickly cools and suppresses the fire. Watermist's unique properties also mean that the spread of smoke is dramatically reduced. These unrivalled abilities to rapidly suppress heat, smoke and fire have been proven in real-life situations, as well as during independent testing by organisations such as the Building Research Establishment (BRE) and the Ministry of Justice.
Testing, approvals and commissioning
Fireworks' design and installation for Crossrail are in accordance with local authority and utilities regulations requirements. Once installed, the entire system was fully pressure-tested and commissioned by Fireworks. The pumps are also approved by the Loss Prevention Certification Board's (LPCB) Loss Prevention Standard (LPS). The watermist nozzles used are CEN/TS 14972 approved by the European Committee for Standardisation.
For more information on our installer and product accreditations, see our solutions page.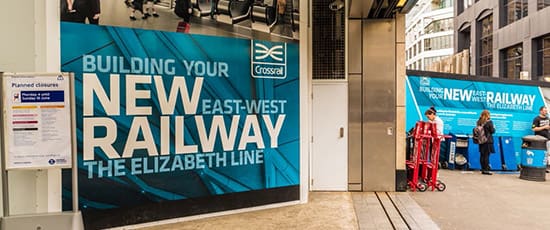 Watermist fire suppression for rail and underground
Book your free, Institute of Fire Enginneers-accredited CPD session on Understanding Watermist Fire Suppression