Fireworks completed the installation of a  water mist fire protection system for one of the UK's largest data centre operators in just four months. Located in Greater London, the 24MW data centre offers over 10,000m2 of rack space.
Fireworks' expertise in the installation of fire protection for data centres, along with an excellent working relationship built with the constructor, were key decision factors for being entrusted with this crucial contract.
The ability to deliver a high-quality project, on time, was crucial. Within four months of being awarded the contract, Fireworks had completed design, installation, testing and commissioning of the suppression system.
"One of the challenges of this project was the short time frame for design and installation, particularly during the height of COVID restrictions" says Derek Killaspy, Managing Director of Fireworks. "All of our teams and our suppliers worked hard to make this happen and we were able to respect the schedule. Above all, data centre constructors and operators can =there is our unrivalled experience in data centres. Fireworks was the first company to install water mist into data centres in the UK some 20 years ago and we are now working with some of the largest data centre operators, providing full turnkey fire protection solutions.
The fire suppression system installed by Fireworks features six water mist pumps and over 4,000 water mist nozzles. All areas of the data centre have been protected, including overhead and underfloor cable trays, storage areas, office areas and the data halls themselves. The entire system has been designed and installed to meet BS 8489 and FM5560 approval requirements for data halls.
The Fireworks complete package of services for this project include full after sales service, with maintenance and 24/7 callout.
Fireworks is the UK's leading installer of water mist fire suppression systems for datacentres. A FIRAS, ISOQAR, UKAS, IWMA, Fire Industry Association and BAFSA accredited installer, Fireworks offers end-to-end fully-approved solutions for all fire suppression needs, from consulting and design, through to commissioning and maintenance.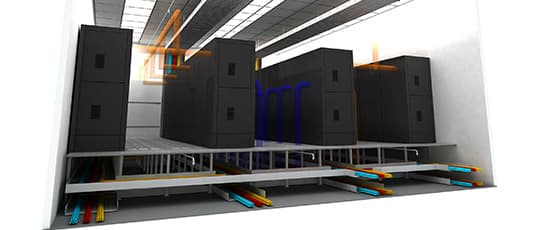 Case study Fireworks entrusted by 12MW data centre in Greater London
Book your free, Institute of Fire Enginneers-accredited CPD session on Understanding Watermist Fire Suppression.