Fireworks has been entrusted to design and install water mist fire suppression solutions for a range of government facilities, including central government offices and listed heritage buildings.
Our projects to retrofit fire protection systems into existing properties include buildings in the Parliament Northern Estate Programme (NEP).
The Parliament Northern Estate Programme
The Government NEP buildings currently serve as offices. Most of these historically important London buildings were built in the 1800s, but have not benefited from significant investments for many years. The NEP programme of refurbishments aims to deliver an estate with improved environmental performance, security, safety and accessibility. Preserving the architectural integrity of these buildings is key to the project and the constructors have engaged over 160 craftspeople, including stonemasons, carpenters and traditional plasterers. Work on site on the first buildings is already underway.
Fireworks is designing and installing bespoke water mist fire protection solutions to upgrade the buildings' fire safety performance, while preserving architectural integrity. Offering the best performance for fast fire, heat and smoke protection, Fireworks' water mist solutions are also ideal for retrofitting into historic buildings.
The Fireworks' Fire Protection Solution
Fireworks' fire protection solutions comprise compact pumps, a water supply, small diameter stainless steel pipes and values and water mist nozzles.
Fire is detected at the very early stages by smoke and/or heat sensors, which then activate the pump. The pump drives water, at pressure, through a system of fine diameter stainless steel pipes to the affected water mist nozzle. Water is discharged through the nozzle as fine mist. The atomised water is drawn directly to the source of heat, where it rapidly cools the fire and starves the flames of oxygen. As smoke particles combine with the mist particles to fall harmlessly to the ground, a breathable environment is maintained. This is a unique life-saving benefit of water mist that no other fire protection can offer.
Best for retrofitting and aesthetics and the environment
The small size of the pumps requires less space and makes them easier to transport and fit into existing buildings. For the NEP project, one pump is powerful enough to protect two or more adjacent buildings. Water requirements can be provided by the mains supply, or a dedicated water tank. As water mist requires much lower amounts of water than sprinklers, the size of water tanks is less than a third of the size.
Small diameter pipes are used and our skilled teams of designers and engineers can shape and form these to fit into practically any corner of a room, with minimum disruption. Each water mist nozzle protects two to three times the area (depending on the type of facility) of a sprinkler head, so fewer need to be fitted. We can also provide water mist nozzles in a range of colours to match the colour of paint, metal or wooden backgrounds. A range of approved and tested nozzles are available for specific requirements, including high-ceilinged rooms and atriums.
Best environmental performance
Water mist is gaining recognition as the most environmentally friendly fire protection solution. No chemicals of any kind are used and only water is required to lubricate pumps. Fewer, smaller, and more durable components all contribute to water mist's superior environmental performance. Water mist also uses up to 90% less water than traditional sprinkler systems and requires less power when operated.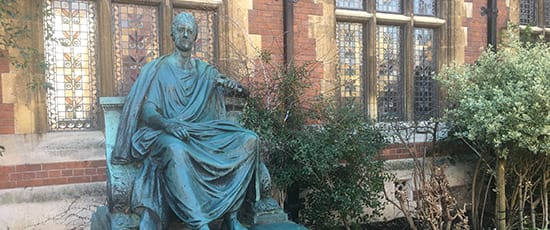 Preserving the irreplaceable – discover Fireworks' fire protection solutions for museums and archives
Read more about our sustainable fire systems